Steelers Today has hooked up with 31 other NFL bloggers from around the country to do a bloggers' mock draft. All 32 NFL teams are represented in the mock draft.
The mock draft is sponsored by Cleveland Browns blog No Logo Needed. For more details on the bloggers' mock draft, click here.
With the thirteenth pick of the 2009 NFL Draft the Washington Redskins blog Curly R selects…
Andre Smith, offensive tackle, Alabama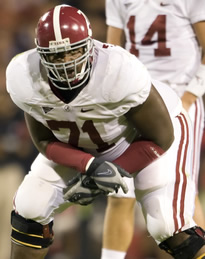 The Redskins have fairly simple needs this year, and they are going to take the best player at either of their top two positions of need.  On the offensive side of the ball Washington needs a tackle.  Thirty-one year old left tackle Chris Samuels ended 2008 on injured reserve, 33 year old right tackle Jon Jansen lost his starting job then got it back and never pass blocked well, all while undrafted rising third year utility tackle Stephon Heyer still is not turning into a full range starter.
On the defensive side, the position of need is defensive end.  With the release of Jason Taylor and the inexplicable loss of Demetric Evans who was the Redskins best player at the position in 2008, the Redskins are left with one quality defensive end, Andre Carter, with the next best option an as yet un re signed Phillip Daniels, 36 years old and coming off a torn ACL suffered in 2008 training camp.
Curly R rated the tackles and defensive ends likely to go in the first thirteen picks in this order:  OT Jason Smith, OT Eugene Monroe, DE Brian Orakpo aka Brian Oh Crappo, OT Andre Smith, OT Michael Oher, DE Everette Brown, DE Aaron Maybin.  With Jason, Eugene and Brian off the board the decision is easy, Andre will challenge at right tackle this summer.
Although this does not necessarily spell the end of either Jon Jansen or Stephon Heyer it does signal the beginning of a new era at offensive tackle in Washington.
The draft results so far are shown below. Click on the individual pick to read the blogger's rationale for his selection.
1. Detroit Lions: Mathew Stafford, QB (Georgia)
2. St. Louis Rams: Eugene Monroe, OT (Virginia)
3. Kansas City Chiefs: Aaron Curry, LB (Wake Forest)
4. Seattle Seahawks: Michael Crabtree, WR (Texas Tech)
5. Cleveland Browns: Rey Maualuga, LB (Southern California)
6. Cincinnati Bengals: Jason Smith, OT (Baylor)
7. Oakland Raiders: Jeremy Maclin, WR (Missouri)
8. Jacksonville Jaguars: B.J. Raji, DT (Boston College)
9. Green Bay Packers, Brian Orakpo, DE (Texas)
10. San Francisco 49ers, Everette Brown, OLB (Florida State)
11. Buffalo Bills, Clay Matthews, OLB (Southern California)
12. Denver Broncos, Malcolm Jenkins, CB (Ohio State)
13. Washington Redskins, Andre Smith, OT (Alabama)
The New Orleans Saints are on the clock.
(If you enjoyed this article, please consider leaving a comment below. Also, please subscribe to our blog by pressing the orange button below. Thanks.)

Subscribe in a reader