Steelers Today has hooked up with 31 other NFL bloggers from around the country to do a bloggers' mock draft. All 32 NFL teams are represented in the mock draft.
The mock draft is sponsored by Cleveland Browns blog No Logo Needed. For more details on the bloggers' mock draft, click here.
With the sixteenth pick of the 2009 NFL Draft the San Diego Chargers blog BoltHype selects…
Eben Britton, offensive tackle, Arizona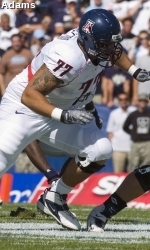 As draft day draws nearer and nearer, speculation as to what position the San Diego Chargers will address in the first round continues to grow.  Some feel the Chargers would be best suited to draft a running back with their top pick.  Others feel an upgrade at safety is needed, or help along the defensive line.  But those who've followed the team closely know how much the Chargers want a top offensive tackle.
Last year, the Chargers were poised to select an offensive tackle with the 27th overall pick in the 2008 NFL Draft.  Unfortunately for the Bolts, a record eight offensive tackles were selected in the first 26 picks.  By the time the Chargers came on to the clock, all the tackles were gone. This year, the Chargers are in a much better position to acquire an elite tackle.
Chargers GM AJ Smith has made it no secret that he is not happy about the way his team has struggled to run the football, and plans to address the issue:
"I just know we're not good enough.  But I will say this, which I've said before: we need to have a solid, consistent running game.  We have to."
While four offensive tackles have gone off the board at this point, there are still some options for the Chargers.  The Chargers could take a defensive lineman like Tyson Jackson.  Or they could draft Merriman's potential replacement, Larry English.  And of course many people think the Chargers take a running back like Chris Wells or Knoshown Moreno here.  But for the Chargers, who need help at right tackle, Britton could be an easy selection.
The Chargers love experienced players, and while Britton is only a junior, he has started 37 consecutive games in the PAC-10.  Britton, a Southern California native, has ideal size, a massive wingspan, a nasty temperment, and leadership abilities.  Britton would bring excellent drive blocking skills to the right tackle position and allow the team some flexibility when calling run plays.  Britton is also a pretty solid athlete and has the speed to pull.
Overall, I think the Chargers head into the first round looking for an offensive tackle if the right one is there.  I think they'd also consider help along the front seven defensively.  But in this scenario, I think Britton is a solid selection he could very well end up being a San Diego Charger when it is all said and done.
The draft results so far are shown below. Click on the individual pick to read the blogger's rationale for his selection.
1. Detroit Lions: Mathew Stafford, QB (Georgia)
2. St. Louis Rams: Eugene Monroe, OT (Virginia)
3. Kansas City Chiefs: Aaron Curry, LB (Wake Forest)
4. Seattle Seahawks: Michael Crabtree, WR (Texas Tech)
5. Cleveland Browns: Rey Maualuga, LB (Southern California)
6. Cincinnati Bengals: Jason Smith, OT (Baylor)
7. Oakland Raiders: Jeremy Maclin, WR (Missouri)
8. Jacksonville Jaguars: B.J. Raji, DT (Boston College)
9. Green Bay Packers, Brian Orakpo, DE (Texas)
10. San Francisco 49ers, Everette Brown, OLB (Florida State)
11. Buffalo Bills, Clay Matthews, OLB (Southern California)
12. Denver Broncos, Malcolm Jenkins, CB (Ohio State)
13. Washington Redskins, Andre Smith, OT (Alabama)
14. New Orleans Saints, Brian Cushing, OLB (Southern California)
15. Houston Texans, Michael Oher, OT (Ole Miss)
16. San Diego Chargers, Eben Britton, OT (Arizona)
The New York Jets are on the clock.
(If you enjoyed this article, please consider leaving a comment below. Also, please subscribe to our blog by pressing the orange button below. Thanks.)

Subscribe in a reader