Steelers Today has hooked up with 31 other NFL bloggers from around the country to do a bloggers' mock draft. All 32 NFL teams are represented in the mock draft.
The mock draft is sponsored by Cleveland Browns blog No Logo Needed. For more details on the bloggers' mock draft, click here.
With the seventeenth pick of the 2009 NFL Draft the New York Jets blog The Jets Blog selects…
Tyson Jackson, defensive end, LSU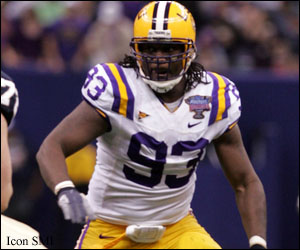 With spots to fill at WR, RB, QB and depth on both lines, it's a shame there's only one pick to be made.  Jets fans have had their say on TJB , and it's clear they're conflicted.  The folks in the TJB War Room were a little surprised how the draft has played out, what with some players like Mark Sanchez, Vontae Davis and Tyson Jackson still on the board.
The Jets have a real need to find offensive playmakers, and with the elite WRs already off the board, but  Chris Wells and Sanchez still in the mix, they are tempting options.  Still with a player like Tyson Jackson still on the board at 17, it is impossible to resist taking him here.
Although the Jets have invested heavily in a defense (by acquiring ILB Bart Scott, S Jim Leonhard & CB Lito Sheppard) already this offseason, taking Jackson at #17 isn't too much of a good thing.  On offense the Jets are looking at depth players like WRs Chansi Stuckey & David Clowney along with QBs Kellen Clemens or Brett Ratliff to take the reigns.  With a deep draft class at WR, I would imagine that the Jets will look to target a player like Brian Robiskie in the second round, and move around if necessary to get him.
By the start of the season, both of the Jets Defensive Ends (Kenyon Coleman & Shaun Ellis) will be over 30.  Todd McShay called him the Draft's only "elite five technique in this draft." Jackson could play end on first and second downs, and transition to a tackle in passing situations for the team for the next 5-10 years.  True, with solid veterans already on the roster, Jackson might have to fight to get playing time in 2009, but he's a pick that would benefit and energize the Jets defensive line for the long-term, something that new coach Rex Ryan would relish.
The draft results so far are shown below. Click on the individual pick to read each blogger's rationale for his selection.
1. Detroit Lions: Mathew Stafford, QB (Georgia)
2. St. Louis Rams: Eugene Monroe, OT (Virginia)
3. Kansas City Chiefs: Aaron Curry, LB (Wake Forest)
4. Seattle Seahawks: Michael Crabtree, WR (Texas Tech)
5. Cleveland Browns: Rey Maualuga, LB (Southern California)
6. Cincinnati Bengals: Jason Smith, OT (Baylor)
7. Oakland Raiders: Jeremy Maclin, WR (Missouri)
8. Jacksonville Jaguars: B.J. Raji, DT (Boston College)
9. Green Bay Packers, Brian Orakpo, DE (Texas)
10. San Francisco 49ers, Everette Brown, OLB (Florida State)
11. Buffalo Bills, Clay Matthews, OLB (Southern California)
12. Denver Broncos, Malcolm Jenkins, CB (Ohio State)
13. Washington Redskins, Andre Smith, OT (Alabama)
14. New Orleans Saints, Brian Cushing, OLB (Southern California)
15. Houston Texans, Michael Oher, OT (Ole Miss)
16. San Diego Chargers, Eben Britton, OT (Arizona)
17. New York Jets, Tyson Jackson, DE, LSU
The Chicago Bears are on the clock.
(If you enjoyed this article, please consider leaving a comment below. Also, please subscribe to our blog by pressing the orange button below. Thanks.)

Subscribe in a reader