Steelers Today has hooked up with 31 other NFL bloggers from around the country to do a bloggers' mock draft. All 32 NFL teams are represented in the mock draft.
The mock draft is sponsored by Cleveland Browns blog No Logo Needed. For more details on the bloggers' mock draft, click here.
With the eighteenth pick of the 2009 NFL Draft the Chicago Bears blog Blog Down Chicago Bears selects…
Darrius Heyward-Bey, wide receiver, Maryland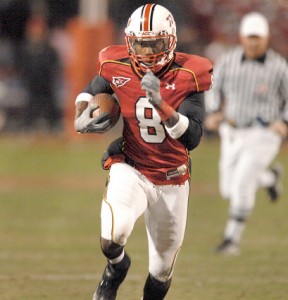 Which one of these underwhelming receivers do Bears fans want the underwhelming Kyle Orton to throw to? Third-year receiver — as in he has three years of experience playing the position — Devin Hester? Rashied Davis? Earl Bennett? Brandon Rideau?
Exactly.
The Bears passed on T.J. Houshmandzadeh and Laveranues Coles, aren't calling the Cardinals about Anquan Boldin, and seem poised to give recently-released Torry Holt the same cold shoulder treatment.
Maryland's Darrius Heyward-Bey has seen his stock go through the roof after an eye-popping performance at the NFL Combine, including running a 4.30 40-yard dash, the fastest of all receivers. But he isn't just all speed, he has the height too — 6'2, 210 — to make him an imposing threat to secondaries everywhere.
All-in-all, Heyward-Bey probably has higher upside than any receiver in the draft, but I know he lacks experience and big-time production. If he denies the urge to go all Troy Williamson, he could finally be — take a deep breath — the No. 1 receiver the Bears have been looking for since the beginning of time.
The draft results so far are shown below. Click on the individual pick to read each blogger's rationale for his selection.
1. Detroit Lions: Mathew Stafford, QB (Georgia)
2. St. Louis Rams: Eugene Monroe, OT (Virginia)
3. Kansas City Chiefs: Aaron Curry, LB (Wake Forest)
4. Seattle Seahawks: Michael Crabtree, WR (Texas Tech)
5. Cleveland Browns: Rey Maualuga, LB (Southern California)
6. Cincinnati Bengals: Jason Smith, OT (Baylor)
7. Oakland Raiders: Jeremy Maclin, WR (Missouri)
8. Jacksonville Jaguars: B.J. Raji, DT (Boston College)
9. Green Bay Packers, Brian Orakpo, DE (Texas)
10. San Francisco 49ers, Everette Brown, OLB (Florida State)
11. Buffalo Bills, Clay Matthews, OLB (Southern California)
12. Denver Broncos, Malcolm Jenkins, CB (Ohio State)
13. Washington Redskins, Andre Smith, OT (Alabama)
14. New Orleans Saints, Brian Cushing, OLB (Southern California)
15. Houston Texans, Michael Oher, OT (Ole Miss)
16. San Diego Chargers, Eben Britton, OT (Arizona)
17. New York Jets, Tyson Jackson, DE, LSU
18. Chicago Bears, Darrius Heyward-Bey, WR, Maryland
The Tampa Bay Buccaneers are on the clock.
(If you enjoyed this article, please consider leaving a comment below. Also, please subscribe to our blog by pressing the orange button below. Thanks.)

Subscribe in a reader