Steelers Today has hooked up with 31 other NFL bloggers from around the country to do a bloggers' mock draft. All 32 NFL teams are represented in the mock draft.
The mock draft is sponsored by Cleveland Browns blog No Logo Needed. For more details on the bloggers' mock draft, click here.
With the nineteenth pick of the 2009 NFL Draft the Tampa Bay Buccaneers blog Buc 'Em selects…
Percy Harvin, wide receiver, Florida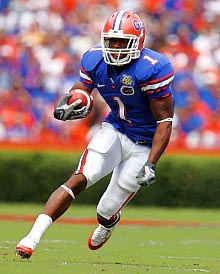 The Tampa Bay Buccaneers find themselves with a number of question marks entering the season.  Will the new coaching staff succeed?  Why couldn't more be done with all that cap space?  Are there too many holes in the roster?  When it comes to the draft, the Bucs could go in a number of directions, but with this pick, they're going with the best available athlete.
Even during the Super Bowl Championship year, the Bucs offense wasn't explosive.  Tampa Bay has had it's moments, but never had an offense that struck fear into the hearts of opponents.  By selecting Percy Harvin, they hope that can change.  Harvin is a hybrid sort of player, but will most likely fit in as more of a traditional receiver.  Sure he'll get the occasional handoff or reverse, but don't think his touches will be split as much as they were at the University of Florida.
At receiver, the Bucs already have their #1 guy - Antonio Bryant - and the player they hope can be their #2 - Michael Clayton.  Harvin fits the role of game changer.  He might not be an every down guy, but will create matchup problems for the defense and could be used as the motion receiver a lot.
Despite injury problems in college, Harvin was never truly seriously hurt.  He didn't miss significant amounts of time and given the fact that he will be used in more of a complimentary role in the NFL, he could be a great pickup at this point in the first round.  Based on talent alone, Harvin is one of the top players in this year's draft.
The Bucs' offense needs someone that can take it the distance.  And that is something Harvin can provide.  With a power running game, a clear cut #1 receiver, and a young, but improving offensive line, Harvin will be a welcome change of pace that could keep opponents guessing.
The draft results so far are shown below. Click on the individual pick to read each blogger's rationale for his selection.
1. Detroit Lions: Mathew Stafford, QB (Georgia)
2. St. Louis Rams: Eugene Monroe, OT (Virginia)
3. Kansas City Chiefs: Aaron Curry, LB (Wake Forest)
4. Seattle Seahawks: Michael Crabtree, WR (Texas Tech)
5. Cleveland Browns: Rey Maualuga, LB (Southern California)
6. Cincinnati Bengals: Jason Smith, OT (Baylor)
7. Oakland Raiders: Jeremy Maclin, WR (Missouri)
8. Jacksonville Jaguars: B.J. Raji, DT (Boston College)
9. Green Bay Packers, Brian Orakpo, DE (Texas)
10. San Francisco 49ers, Everette Brown, OLB (Florida State)
11. Buffalo Bills, Clay Matthews, OLB (Southern California)
12. Denver Broncos, Malcolm Jenkins, CB (Ohio State)
13. Washington Redskins, Andre Smith, OT (Alabama)
14. New Orleans Saints, Brian Cushing, OLB (Southern California)
15. Houston Texans, Michael Oher, OT (Ole Miss)
16. San Diego Chargers, Eben Britton, OT (Arizona)
17. New York Jets, Tyson Jackson, DE, LSU
18. Chicago Bears, Darrius Heyward-Bey, WR, Maryland
19. Tampa Bay Buccaneers, Percy Harvin, WR, Florida
The Detroit Lions are on the clock.
(If you enjoyed this article, please consider leaving a comment below. Also, please subscribe to our blog by pressing the orange button below. Thanks.)

Subscribe in a reader