Steelers Today has hooked up with 31 other NFL bloggers from around the country to do a bloggers' mock draft. All 32 NFL teams are represented in the mock draft.
The mock draft is sponsored by Cleveland Browns blog No Logo Needed. For more details on the bloggers' mock draft, click here.
With the twentieth pick of the 2009 NFL Draft the Detroit Lions blog The Wayne Fontes Experience selects…
Aaron Maybin, Defensive End, Penn State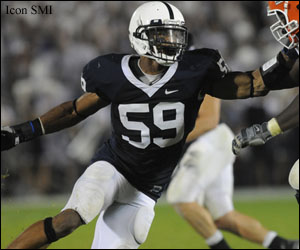 Though offensive tackle could be addressed at the 20 spot, at this point of the draft, the Lions absolutely have to draft for the defensive side of the ball (Plus there has been a run on OT's in this mock). To be blunt, they could draft a player at 20 who plays ANY defensive position, and it would fill a Detroit need. The Lions' defense was truly that bad in 2008. Legendarily, shockingly, regime killing bad.
Middle linebacker is a HUGE need, so tOSU's James Laurientus was heavily considered with this pick. But he could very likely be available with the first pick of the 2nd round, as Laurientus has been dropping on draft boards and mock drafts all across the NFL. I was hoping USC LB Rey Maualuga would be available at 20, but he surprisingly went in the top 5 of this mock.
The Lions also have big time needs on the defensive line, and I was even more surprised to see Aaron Maybin, the DE out of Penn State, still on the board.  The Lions desperately need a pass rush, and Maybin is a pure speed rusher, though a bit raw. But he scouts out as a breakout type talent, the best player off the snap in this draft and the best pass rusher available, period.
The Lions have lacked a big time pass rushing end for over 2 decades (Finding an end "Who could block out the sun" was Wayne Fontes' obsession, his white whale, so to speak). The last Lions defensive end to honestly put fear in the the eyes of opposition quarterbacks was Al "Bubba" Baker back in the early-mid 80′s. Yes, it's been that long…
Maybin is the sort of talent the Lions can build around.  He could be head coach Jim Schwartz's Detroit version of "The Freak", Javon Kearse, who terrorized offenses from the defensive end position during Schwartz's first 3 seasons as defensive coordinator (2001-03) in Tennessee. Maybin would also bookend nicely with one of the Lions' few legitimate NFL defenders, end Dewayne White. Add Cliff Averil to the mix, who showed signs of being a solid contributor in his rookie season with 5 sacks, and the Lions would actually have a defensive position which could be considered a strength.
Maybin may have the biggest upside (I know, it's a cliche, but true in his case) of any defensive player in this draft. My only concern is size, as Maybin is on the smallish side, and Schwartz is on record saying he wants a bigger and stronger defense under his watch.  But Maybin's a born pass rusher, and is the sort of player who could be a true impact defender in a few years. Impact players have been far and few between in Detroit for quite some time.
The Lions would be THRILLED if a player with Maybin's natural talent is available with the 20th pick.
The draft results so far are shown below. Click on the individual pick to read each blogger's rationale for his selection.
1. Detroit Lions: Mathew Stafford, QB (Georgia)
2. St. Louis Rams: Eugene Monroe, OT (Virginia)
3. Kansas City Chiefs: Aaron Curry, LB (Wake Forest)
4. Seattle Seahawks: Michael Crabtree, WR (Texas Tech)
5. Cleveland Browns: Rey Maualuga, LB (Southern California)
6. Cincinnati Bengals: Jason Smith, OT (Baylor)
7. Oakland Raiders: Jeremy Maclin, WR (Missouri)
8. Jacksonville Jaguars: B.J. Raji, DT (Boston College)
9. Green Bay Packers, Brian Orakpo, DE (Texas)
10. San Francisco 49ers, Everette Brown, OLB (Florida State)
11. Buffalo Bills, Clay Matthews, OLB (Southern California)
12. Denver Broncos, Malcolm Jenkins, CB (Ohio State)
13. Washington Redskins, Andre Smith, OT (Alabama)
14. New Orleans Saints, Brian Cushing, OLB (Southern California)
15. Houston Texans, Michael Oher, OT (Ole Miss)
16. San Diego Chargers, Eben Britton, OT (Arizona)
17. New York Jets, Tyson Jackson, DE (LSU)
18. Chicago Bears, Darrius Heyward-Bey, WR (Maryland)
19. Tampa Bay Buccaneers, Percy Harvin, WR  (Florida)
20. Detroit Lions, Aaron Maybin, DE (Penn State)
The Philadelphia Eagles are on the clock.
(If you enjoyed this article, please consider leaving a comment below. Also, please subscribe to our blog by pressing the orange button below. Thanks.)

Subscribe in a reader