Steelers Today has hooked up with 31 other NFL bloggers from around the country to do a bloggers' mock draft. All 32 NFL teams are represented in the mock draft.
The mock draft is sponsored by Cleveland Browns blog No Logo Needed. For more details on the bloggers' mock draft, click here.
With the twentieth pick of the 2009 NFL Draft the Philadelphia Eagles blog Iggles Blog selects…
Vontae Davis, Cornerback, Illinois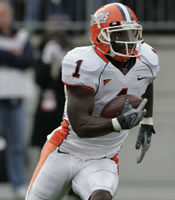 Say what now?  A cornerback?  And one with character issues to boot?
Yes.  Yes, indeed.
Davis is the perfect Andy Reid draft choice:
He plays a high-value position in which first-round athleticism makes a huge difference.
No one sees the pick coming.
On its face, the pick is completely inexplicable.
But what about offensive line (you ask).  Or tight end?  Or running back?  Or all the other places the Eagles have actual needs?  Not cornerback, where we have a Pro Bowler, a solid starter, a very wealthy nickel man and a "first-round talent" prospect coming off a knee injury.
Let me explain.  First of all, as a cornerback, Davis is very, very good.  He's also — for a cornerback — very, very big.  The brother of Vernon Davis is a physical freak.  You don't find many 6-0, 200-pound guys who can turn and run with most wide receivers.  Can I get a "Plaxico Burress" anyone?
Secondly, everyone remembers the story of how the Eagles drafted Lito Sheppard and Sheldon Brown even though they already had Troy Vincent and Bobby Taylor locked in as starters.  What most people don't realize is that Sheldon Brown is now older than Taylor was when his replacement was drafted (and only one year younger that Vincent was at the same time.)
Cornerbacks don't age well.  You can never have enough guys around to keep pushing them.
Now, with that said, the other intriguing thing about Davis is that he may actually project to FS at the next level.  He's a born hitter, loves contact, and his "tremendous athleticism" at the cornerback position would translate to "Hall of Fame caliber athleticism" at the safety position.
New SS Sean Jones is a one-year stopgap, we still don't know for sure what we have in Quintin Demps, and Quintin Mikell turns 29 later this year.  Another safety prospect would not be a bad thing to have around.
The final interesting note is that Davis' Pro Day is today at Illinois.  Depending on the numbers he puts up then, the idea that he'll be around at #20 is quite possibly a pipe dream.  But I'll take him for now.
The draft results so far are shown below. Click on the individual pick to read each blogger's rationale for his selection.
1. Detroit Lions: Mathew Stafford, QB (Georgia)
2. St. Louis Rams: Eugene Monroe, OT (Virginia)
3. Kansas City Chiefs: Aaron Curry, LB (Wake Forest)
4. Seattle Seahawks: Michael Crabtree, WR (Texas Tech)
5. Cleveland Browns: Rey Maualuga, LB (Southern California)
6. Cincinnati Bengals: Jason Smith, OT (Baylor)
7. Oakland Raiders: Jeremy Maclin, WR (Missouri)
8. Jacksonville Jaguars: B.J. Raji, DT (Boston College)
9. Green Bay Packers, Brian Orakpo, DE (Texas)
10. San Francisco 49ers, Everette Brown, OLB (Florida State)
11. Buffalo Bills, Clay Matthews, OLB (Southern California)
12. Denver Broncos, Malcolm Jenkins, CB (Ohio State)
13. Washington Redskins, Andre Smith, OT (Alabama)
14. New Orleans Saints, Brian Cushing, OLB (Southern California)
15. Houston Texans, Michael Oher, OT (Ole Miss)
16. San Diego Chargers, Eben Britton, OT (Arizona)
17. New York Jets, Tyson Jackson, DE (LSU)
18. Chicago Bears, Darrius Heyward-Bey, WR (Maryland)
19. Tampa Bay Buccaneers, Percy Harvin, WR  (Florida)
20. Detroit Lions, Aaron Maybin, DE (Penn State)
21. Philadelphia Eagles, Vontae Davis, CB (Illinois)
The Minnesota Vikings are on the clock.
(If you enjoyed this article, please consider leaving a comment below. Also, please subscribe to our blog by pressing the orange button below. Thanks.)

Subscribe in a reader