Steelers Today has hooked up with 31 other NFL bloggers from around the country to do a bloggers' mock draft. All 32 NFL teams are represented in the mock draft.
The mock draft is sponsored by Cleveland Browns blog No Logo Needed. For more details on the bloggers' mock draft, click here.
With the 22nd pick of the 2009 NFL Draft the Minnesota Vikings blog The Ragnarok selects…
Mark Sanchez, Quarterback, USC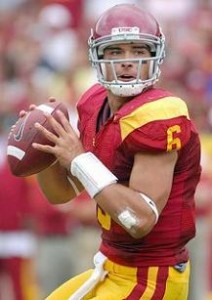 Going into this mock draft, I expected to have to justify why I chose not to draft Josh Freeman, who is generally considered the third best quarterback available.  By my count, there were about 9 teams that could reasonably take Mark Sanchez due to the age of their "franchise" QB or due to their lack of a franchise QB (Detroit, St. Louis, Seattle, Jacksonville, San Francisco, Denver, New York Jets, Chicago, Tampa Bay) before the Vikings picked.  Instead, it looks like I'm going to have to decide whether Mark Sanchez is the answer to the Vikings' long standing quarterback issue (or is he juicy enough to tempt the Broncos to trade Jay Cutler for him) or whether the Vikings should address their needs at cornerback or offensive line.  And after thinking back to the last two years, the answer is clear—if Mark Sanchez is available, the Vikings should draft him.
First off, it's quite clear that the Vikings need a real franchise quarterback.  Tarvaris Jackson is never going to be that good and Sage Rosenfels is already 31 years old.  Secondly, I believe that Mark Sanchez is the best quarterback available in the draft because he's got enough arm strength for the pros, he's more accurate than Matt Stafford and he's shown the ability to read coverages that Freeman never had to in Kansas State's spread offense.
Sanchez has the arm strength and the accuracy to succeed in the NFL and he has the background in a Pro-Style offense that will allow him to quickly adapt to the pros.  He completed 64.27% of his passes in his 16 games at USC, more than any other first round quarterback.  He can throw the ball deep accurately (forcing defenses to only put eight in the box to stop Adrian Peterson) and he has the touch needed for the short throws as well, a necessity in Brad Childress' West Coast Offense.  Also, Sanchez has all the intangibles you'd want in your quarterback, which he showed by getting elected captain last year and when he stuck it out at USC despite getting beat out by John David Booty for the starting position in 2006.
I know there are some doubts about Sanchez due to his lack of starting experience, the talent surrounding him, his height and the fact he was somewhat turnover prone, throwing ten interceptions and fumbling seven times.  The doubts are enough for me to hope that he's taken before the Vikings' pick, but they aren't enough to let me pass on him for another player (especially with 5 offensive tackles already off the board).  So the Vikings' finally have their franchise quarterback.  Hopefully.
The draft results so far are shown below. Click on the individual pick to read each blogger's rationale for his selection.
1. Detroit Lions: Mathew Stafford, QB (Georgia)
2. St. Louis Rams: Eugene Monroe, OT (Virginia)
3. Kansas City Chiefs: Aaron Curry, LB (Wake Forest)
4. Seattle Seahawks: Michael Crabtree, WR (Texas Tech)
5. Cleveland Browns: Rey Maualuga, LB (Southern California)
6. Cincinnati Bengals: Jason Smith, OT (Baylor)
7. Oakland Raiders: Jeremy Maclin, WR (Missouri)
8. Jacksonville Jaguars: B.J. Raji, DT (Boston College)
9. Green Bay Packers, Brian Orakpo, DE (Texas)
10. San Francisco 49ers, Everette Brown, OLB (Florida State)
11. Buffalo Bills, Clay Matthews, OLB (Southern California)
12. Denver Broncos, Malcolm Jenkins, CB (Ohio State)
13. Washington Redskins, Andre Smith, OT (Alabama)
14. New Orleans Saints, Brian Cushing, OLB (Southern California)
15. Houston Texans, Michael Oher, OT (Ole Miss)
16. San Diego Chargers, Eben Britton, OT (Arizona)
17. New York Jets, Tyson Jackson, DE (LSU)
18. Chicago Bears, Darrius Heyward-Bey, WR (Maryland)
19. Tampa Bay Buccaneers, Percy Harvin, WR  (Florida)
20. Detroit Lions, Aaron Maybin, DE (Penn State)
21. Philadelphia Eagles, Vontae Davis, CB (Illinois)
22. Minnesota Vikings, Mark Sanchez, QB (Southern California)
The New England Patriots are on the clock.
(If you enjoyed this article, please consider leaving a comment below. Also, please subscribe to our blog by pressing the orange button below. Thanks.)

Subscribe in a reader