Steelers Today has hooked up with 31 other NFL bloggers from around the country to do a bloggers' mock draft. All 32 NFL teams are represented in the mock draft.
The mock draft is sponsored by Cleveland Browns blog No Logo Needed. For more details on the bloggers' mock draft, click here.
With the 23rd pick of the 2009 NFL Draft the New England Patriots blog Patriots Daily selects……
Before I get to that, let me just say that I am going to get killed for this. And it's not my fault, honest. I mean, you see how this pretend draft has gone for me, the pretend GM of the pretend Pats. Let's just say Rey Maualugua wasn't going to be sliding in this particular selection process. Neither was Clay Matthews or Brian Cushing, the other USC linebackers we also liked, or even Eben Britton, the versatile Arizona tackle who would have been a nice building block for the future of the Pats offensive line.
So what do I do now? I'm too slow witted to try a trade with the very same people who suckered me into this draft in the first place, so that's out. Do I go BPA (best player available) regardless of position, or CYA with a 'need' pick?
 Here's how I figured it. If I'm going to be pretend paying someone pretend first round money for a pretend four years, I'm going to give it to the best football player I can find, and not some linebacker I don't really like, some DE-OLB tweener that I'm not sure about, or some defensive back I can probably get eleven pretend pay slots later.
So, with the 23rd pick, the New England Patriots select…
Knowshon Moreno, Running Back, Georgia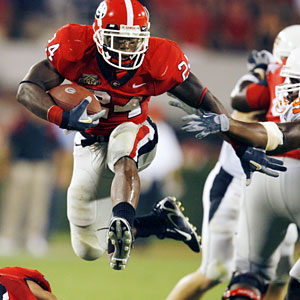 Yeah, I know. The Patriots don't need a running back at the moment, not with a full rotation in place for 2009. Not with Sammy Morris, Fred Taylor and Laurence Maroney tied up through 2010. Not with other needs – in the secondary or the front seven, for example – that will more immediately impact their ability to compete this fall.
I don't care. Moreno is, by most measurements, a top 15 player in this draft. I'm supposed to ignore that? Did I mention that this draft couldn't have gone any worse for me?
The strange thing is that this could end up working. Kevin Faulk, the Pats utility knife who is about to turn 33, is entering the final year of his contract. Maroney is teetering on the edge of full-on bust status after a disappointing 2008 season that was marred by injury and ineffectiveness. As great as he's been in New England, Morris is 32, and if the Pats advance deep into next year's playoffs, they'll probably have cake in the break room one afternoon to celebrate Taylor's 34th birthday.  
Best of all, by all accounts, Moreno is a well rounded, consistently productive player. He's not a burner, but a quick, elusive and tough runner who is well suited to be a focal point, yet does the little things (like blitz pickup) right. He's a smooth receiver who can get down the field from the backfield, or split wide. He's got the right classroom and weight room make-up. He's probably the most Patriot-like running back in the draft. 
So despite the fact that I'll get killed for this, he's my pick. The Atlanta Falcons are now on the clock. Hopefully, I'll find out later that they wanted Moreno. Because after all, misery loves company
The draft results so far are shown below. Click on the individual pick to read each blogger's rationale for his selection.
1. Detroit Lions: Mathew Stafford, QB (Georgia)
2. St. Louis Rams: Eugene Monroe, OT (Virginia)
3. Kansas City Chiefs: Aaron Curry, LB (Wake Forest)
4. Seattle Seahawks: Michael Crabtree, WR (Texas Tech)
5. Cleveland Browns: Rey Maualuga, LB (Southern California)
6. Cincinnati Bengals: Jason Smith, OT (Baylor)
7. Oakland Raiders: Jeremy Maclin, WR (Missouri)
8. Jacksonville Jaguars: B.J. Raji, DT (Boston College)
9. Green Bay Packers, Brian Orakpo, DE (Texas)
10. San Francisco 49ers, Everette Brown, OLB (Florida State)
11. Buffalo Bills, Clay Matthews, OLB (Southern California)
12. Denver Broncos, Malcolm Jenkins, CB (Ohio State)
13. Washington Redskins, Andre Smith, OT (Alabama)
14. New Orleans Saints, Brian Cushing, OLB (Southern California)
15. Houston Texans, Michael Oher, OT (Ole Miss)
16. San Diego Chargers, Eben Britton, OT (Arizona)
17. New York Jets, Tyson Jackson, DE (LSU)
18. Chicago Bears, Darrius Heyward-Bey, WR (Maryland)
19. Tampa Bay Buccaneers, Percy Harvin, WR  (Florida)
20. Detroit Lions, Aaron Maybin, DE (Penn State)
21. Philadelphia Eagles, Vontae Davis, CB (Illinois)
22. Minnesota Vikings, Mark Sanchez, QB (Southern California)
23. New England Patriots, Knowshon Moreno, RB (Georgia)
The Atlanta Falcons are on the clock.
(If you enjoyed this article, please consider leaving a comment below. Also, please subscribe to our blog by pressing the orange button below. Thanks.)

Subscribe in a reader