Steelers Today has hooked up with 31 other NFL bloggers from around the country to do a bloggers' mock draft. All 32 NFL teams are represented in the mock draft.
The mock draft is sponsored by Cleveland Browns blog No Logo Needed. For more details on the bloggers' mock draft, click here.
With the 25th pick of the 2009 NFL Draft the Miami Dolphins blog The Phinsinder selects……
Larry English, Linebacker, Northern Illinois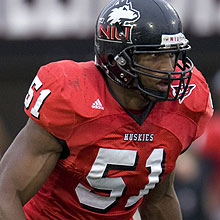 There were two ways to go about this pick.  I could have taken the player I like the most that is still on the board - which would have been either CB Darius Butler or CB Sean Smith.  That would have also addressed Miami's most glaring hole.  But this is a mock draft - and I'm going to select the player that I think the Dolphins would most likely draft if the actual draft played out this way.
Bill Parcells loves linebackers.  That's no secret.  And among Miami's top three needs is the outside linebacker position (right up there with CB and WR).  Larry English has the size and strength that this regime loves.  And while I worry a litle bit about English's ability to drop back into coverage due to his lack of fluidity in his hips, I do think that Larry's upside here is tremendous as a pass rusher and potential heir to Joey Porter.  He's also tough, smart, and a "high-motor" player - all things that Bill Parcells demands from his linebackers.
The draft results so far are shown below. Click on the individual pick to read each blogger's rationale for his selection.
1. Detroit Lions: Mathew Stafford, QB (Georgia)
2. St. Louis Rams: Eugene Monroe, OT (Virginia)
3. Kansas City Chiefs: Aaron Curry, LB (Wake Forest)
4. Seattle Seahawks: Michael Crabtree, WR (Texas Tech)
5. Cleveland Browns: Rey Maualuga, LB (Southern California)
6. Cincinnati Bengals: Jason Smith, OT (Baylor)
7. Oakland Raiders: Jeremy Maclin, WR (Missouri)
8. Jacksonville Jaguars: B.J. Raji, DT (Boston College)
9. Green Bay Packers, Brian Orakpo, DE (Texas)
10. San Francisco 49ers, Everette Brown, OLB (Florida State)
11. Buffalo Bills, Clay Matthews, OLB (Southern California)
12. Denver Broncos, Malcolm Jenkins, CB (Ohio State)
13. Washington Redskins, Andre Smith, OT (Alabama)
14. New Orleans Saints, Brian Cushing, OLB (Southern California)
15. Houston Texans, Michael Oher, OT (Ole Miss)
16. San Diego Chargers, Eben Britton, OT (Arizona)
17. New York Jets, Tyson Jackson, DE (LSU)
18. Chicago Bears, Darrius Heyward-Bey, WR (Maryland)
19. Tampa Bay Buccaneers, Percy Harvin, WR  (Florida)
20. Detroit Lions, Aaron Maybin, DE (Penn State)
21. Philadelphia Eagles, Vontae Davis, CB (Illinois)
22. Minnesota Vikings, Mark Sanchez, QB (Southern California)
23. New England Patriots, Knowshon Moreno, RB (Georgia)
24. Atlanta Falcons, Clint Sintim, LB (Virginia)
25. Miami Dolphins, Larry English, LB (Northern Illinois)
The Baltimore Ravens (booo!) are on the clock.
(If you enjoyed this article, please consider leaving a comment below. Also, please subscribe to our blog by pressing the orange button below. Thanks.)

Subscribe in a reader