Steelers Today has hooked up with 31 other NFL bloggers from around the country to do a bloggers' mock draft. All 32 NFL teams are represented in the mock draft.
The mock draft is sponsored by Cleveland Browns blog No Logo Needed. For more details on the bloggers' mock draft, click here.
With the 26th pick of the 2009 NFL Draft the Baltimore Ravens blog The Ebony Bird selects……
Kenny Britt, Wide Receiver, Rutgers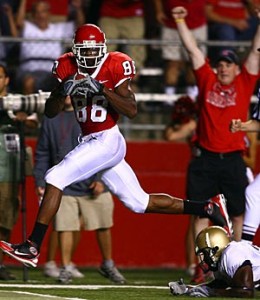 The Ravens have had their most active offseason in team history, re-signing Ray Lewis, signing CB Dominique Foxworth, CB Chris Carr, C Matt Birk and TE L.J. Smith, along with bringing in multiple new coaches and cutting veterans Samari Rolle and Chris McAllister.
In re-signing Lewis, the linebackers corps remains strong, and the secondary should be helped by the new additions and the emergence of Fabian Washington.  Therefore, the main need that the Purple and Black  have is at receiver.  Derrick Mason is getting old, Mark Clayton is inconsistent and Demetrius Williams has never been healthy enough or productive enough to become a regular for the team.
With Joe Flacco as the team's most successful quarterback since Trent Dilfer, Unibrow Boy needs a "toolsy" receiver to help him become a star.  Britt has very good speed, and great hands, and his 6'3″, 218 lb. frame makes him a big target.  When you combine all of those, you get one of Rutgers' best receivers in school history.  Seeing him in person 8 times in Piscataway, I can tell you from firsthand accounts how daunting a task it is to cover Mr. Britt.  Picking Britt would bring the Ravens that much closer to the lofty status of Super Bowl champion.
The draft results so far are shown below. Click on the individual pick to read each blogger's rationale for his selection.
1. Detroit Lions: Mathew Stafford, QB (Georgia)
2. St. Louis Rams: Eugene Monroe, OT (Virginia)
3. Kansas City Chiefs: Aaron Curry, LB (Wake Forest)
4. Seattle Seahawks: Michael Crabtree, WR (Texas Tech)
5. Cleveland Browns: Rey Maualuga, LB (Southern California)
6. Cincinnati Bengals: Jason Smith, OT (Baylor)
7. Oakland Raiders: Jeremy Maclin, WR (Missouri)
8. Jacksonville Jaguars: B.J. Raji, DT (Boston College)
9. Green Bay Packers, Brian Orakpo, DE (Texas)
10. San Francisco 49ers, Everette Brown, OLB (Florida State)
11. Buffalo Bills, Clay Matthews, OLB (Southern California)
12. Denver Broncos, Malcolm Jenkins, CB (Ohio State)
13. Washington Redskins, Andre Smith, OT (Alabama)
14. New Orleans Saints, Brian Cushing, OLB (Southern California)
15. Houston Texans, Michael Oher, OT (Ole Miss)
16. San Diego Chargers, Eben Britton, OT (Arizona)
17. New York Jets, Tyson Jackson, DE (LSU)
18. Chicago Bears, Darrius Heyward-Bey, WR (Maryland)
19. Tampa Bay Buccaneers, Percy Harvin, WR  (Florida)
20. Detroit Lions, Aaron Maybin, DE (Penn State)
21. Philadelphia Eagles, Vontae Davis, CB (Illinois)
22. Minnesota Vikings, Mark Sanchez, QB (Southern California)
23. New England Patriots, Knowshon Moreno, RB (Georgia)
24. Atlanta Falcons, Clint Sintim, LB (Virginia)
25. Miami Dolphins, Larry English, LB (Northern Illinois)
26. Baltimore Ravens, Kenny Britt, WR (Rutgers)
The Indianapolis Colts are on the clock.
(If you enjoyed this article, please consider leaving a comment below. Also, please subscribe to our blog by pressing the orange button below. Thanks.)

Subscribe in a reader