Steelers Today has hooked up with 31 other NFL bloggers from around the country to do a bloggers' mock draft. All 32 NFL teams are represented in the mock draft.
The mock draft is sponsored by Cleveland Browns blog No Logo Needed. For more details on the bloggers' mock draft, click here.
With the 27th pick of the 2009 NFL Draft the Indianapolis Colts blog 18 To 88 selects……
Peria Jerry, Defensive Tackle, Mississippi State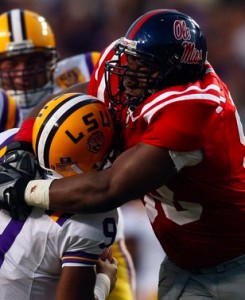 Bill Polian has an unblemished record of hitting on first round picks in Indianapolis.  Every player he has taken has become a starter, if not an outright star.  At the same time, many of his picks were roundly criticized at the time.  Edge James wasn't Ricky Williams.  Dwight Freeney was too small and a reach.  Reggie Wayne should have been passed over for a defender.
The Colts do not draft for need, but always take the highest player available on the board.  2009 is the rare exception where the Colts greatest need IS the highest player on the board.  Polian has said publicly that he doubts the team will take a defensive tackle, primarily because history tells us that good DTs are off the board in the top 15 picks, and that the next 'value slot' is down around the 5th round.  If Peria Jerry were to miraculously fall to 27, however, Polian would probably do a dance and happily select him.
Jerry would be the perfect DT for the Colts system, as he is a disruptive tackle who makes plays in the backfield.  His only negative is that he is slightly undersized (something the Colts simply do not worry about).  Indy desperately needs a DT, but will not reach for a player just to fill a need.  The results have been spectacular for the Colts this decade, and the selection of Jerry would cause widespread rejoicing among the Colt faithful.
A word of caution to Mr. Jerry:  If selected he should immediately take out a large life insurance policy.  The Colts are currently experiencing the "Curse of Corey Simon" when it comes to DTs.  Indy has had a need for a top flight DT for 4 seasons now, but every time Polian addresses the need, something horrible happens to the player:
2005 Corey Simon is signed…one year later he is out of the league (chronic fatness)
2006 Montae Reagor is in a severe car accident and never plays for the Colts again
2007 Booger McFarland blows out a knee in training camp
2008 Ed Johnson is cut for refeer
2008 Quinn Pitcock decides to retire at the ripe old age of 23
2008 John McCargo fails a physical and is returned to Buffalo after a trade. He never plays with the Colts.
The draft results so far are shown below. Click on the individual pick to read each blogger's rationale for his selection.
1. Detroit Lions: Mathew Stafford, QB (Georgia)
2. St. Louis Rams: Eugene Monroe, OT (Virginia)
3. Kansas City Chiefs: Aaron Curry, LB (Wake Forest)
4. Seattle Seahawks: Michael Crabtree, WR (Texas Tech)
5. Cleveland Browns: Rey Maualuga, LB (Southern California)
6. Cincinnati Bengals: Jason Smith, OT (Baylor)
7. Oakland Raiders: Jeremy Maclin, WR (Missouri)
8. Jacksonville Jaguars: B.J. Raji, DT (Boston College)
9. Green Bay Packers, Brian Orakpo, DE (Texas)
10. San Francisco 49ers, Everette Brown, OLB (Florida State)
11. Buffalo Bills, Clay Matthews, OLB (Southern California)
12. Denver Broncos, Malcolm Jenkins, CB (Ohio State)
13. Washington Redskins, Andre Smith, OT (Alabama)
14. New Orleans Saints, Brian Cushing, OLB (Southern California)
15. Houston Texans, Michael Oher, OT (Ole Miss)
16. San Diego Chargers, Eben Britton, OT (Arizona)
17. New York Jets, Tyson Jackson, DE (LSU)
18. Chicago Bears, Darrius Heyward-Bey, WR (Maryland)
19. Tampa Bay Buccaneers, Percy Harvin, WR  (Florida)
20. Detroit Lions, Aaron Maybin, DE (Penn State)
21. Philadelphia Eagles, Vontae Davis, CB (Illinois)
22. Minnesota Vikings, Mark Sanchez, QB (Southern California)
23. New England Patriots, Knowshon Moreno, RB (Georgia)
24. Atlanta Falcons, Clint Sintim, LB (Virginia)
25. Miami Dolphins, Larry English, LB (Northern Illinois)
26. Baltimore Ravens, Kenny Britt, WR (Rutgers)
27. Indianapolis Colts, Peria Jerry, DT (Mississippi State)
The Philadelphia Eagles are on the clock.
(If you enjoyed this article, please consider leaving a comment below. Also, please subscribe to our blog by pressing the orange button below. Thanks.)

Subscribe in a reader