Steelers Today has hooked up with 31 other NFL bloggers from around the country to do a bloggers' mock draft. All 32 NFL teams are represented in the mock draft.
The mock draft is sponsored by Cleveland Browns blog No Logo Needed. For more details on the bloggers' mock draft, click here.
With the 28th pick of the 2009 NFL Draft the Philadelphia Eagles blog Iggles Blog selects……
Alex Mack, Center, California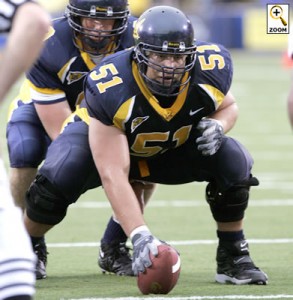 Man, I love this pick.  The scouting reports on this kid are glowing.  He's considered the best center prospect since (at least) Nick Mangold.  I've heard him do a couple interviews since the Combine and have been impressed with him both times.
There's really nothing not to love about this guy.  And the bottom line is that I'd much rather see the Eagles take a truly elite guy at the center position, rather than reach for the fifth-best dude at tackle.
As for how he fits in with the Eagles, there's a short answer and a long answer.  The short version is right now the Eagles have four guys penciled in as starters for next year's offensive line.  Mack will play center in this league some day, but just on raw talent and ability he can come in next year and start right away at guard, allowing one of the current guards to move out and play left tackle.
The long version is more complicated and — let's face it — a lot less interesting to people who aren't Eagles fans.  But for the benefit of the folks on the blog, I'll dig in a bit.
Selecting Mack fixes the 2009 issue addressed above, but it's most interesting for what it does in 2010.  Right now, there are a couple guys on this line who are never going to reach their full potential if they don't demonstrate a more significant commitment to controlling their weight.  Fourth-year guard Max Jean-Gilles could be a dominating interior lineman, but he's not going to get there by following his workout program from the 2008 offseason.  If he can get himself down to the 335 range, the sky is going to be the limit for what he can do.
At the center position, Jamaal Jackson has the same issue.  Once MJG got hurt last year, the Eagles offensive line was four trim dudes and one big ol' chubs in the middle.  You could argue that the added weight helps him anchor against the league's biggest nose tackles, but it's also true that for every other task he has on the field, losing ten pounds wouldn't hurt him.
Alex Mack is by all accounts a very bright guy, but I don't foresee the Eagles turning over the line calls to a rookie with the team in the place it's at right now.  Add that to the fact that MJG is still coming back from his rather gruesome season-ending broken ankle injury from last year, and it's not easy to see how MJG is going to beat Jackson onto the field in 2009.
It's a wide open competition in 2010, however, and once that all shakes out, you're looking at one heck of a line for the next five years.  (And one that should be able to block well for whichever back-up running back the Eagles select somewhere later in this draft after not taking one with this pick.)
The draft results so far are shown below. Click on the individual pick to read each blogger's rationale for his selection.
1. Detroit Lions: Mathew Stafford, QB (Georgia)
2. St. Louis Rams: Eugene Monroe, OT (Virginia)
3. Kansas City Chiefs: Aaron Curry, LB (Wake Forest)
4. Seattle Seahawks: Michael Crabtree, WR (Texas Tech)
5. Cleveland Browns: Rey Maualuga, LB (Southern California)
6. Cincinnati Bengals: Jason Smith, OT (Baylor)
7. Oakland Raiders: Jeremy Maclin, WR (Missouri)
8. Jacksonville Jaguars: B.J. Raji, DT (Boston College)
9. Green Bay Packers, Brian Orakpo, DE (Texas)
10. San Francisco 49ers, Everette Brown, OLB (Florida State)
11. Buffalo Bills, Clay Matthews, OLB (Southern California)
12. Denver Broncos, Malcolm Jenkins, CB (Ohio State)
13. Washington Redskins, Andre Smith, OT (Alabama)
14. New Orleans Saints, Brian Cushing, OLB (Southern California)
15. Houston Texans, Michael Oher, OT (Ole Miss)
16. San Diego Chargers, Eben Britton, OT (Arizona)
17. New York Jets, Tyson Jackson, DE (LSU)
18. Chicago Bears, Darrius Heyward-Bey, WR (Maryland)
19. Tampa Bay Buccaneers, Percy Harvin, WR  (Florida)
20. Detroit Lions, Aaron Maybin, DE (Penn State)
21. Philadelphia Eagles, Vontae Davis, CB (Illinois)
22. Minnesota Vikings, Mark Sanchez, QB (Southern California)
23. New England Patriots, Knowshon Moreno, RB (Georgia)
24. Atlanta Falcons, Clint Sintim, LB (Virginia)
25. Miami Dolphins, Larry English, LB (Northern Illinois)
26. Baltimore Ravens, Kenny Britt, WR (Rutgers)
27. Indianapolis Colts, Peria Jerry, DT (Mississippi State)
28. Philadelphia Eagles, Alex Mack, C (California)
The New York Giants are on the clock.
(If you enjoyed this article, please consider leaving a comment below. Also, please subscribe to our blog by pressing the orange button below. Thanks.)

Subscribe in a reader