Steelers Today has hooked up with 31 other NFL bloggers from around the country to do a bloggers' mock draft. All 32 NFL teams are represented in the mock draft.
The mock draft is sponsored by Cleveland Browns blog No Logo Needed. For more details on the bloggers' mock draft, click here.
With the 29th pick of the 2009 NFL Draft the New York Giants blog Big Blue 101 selects……
Hakeem Nicks, Wide Receiver, North Carolina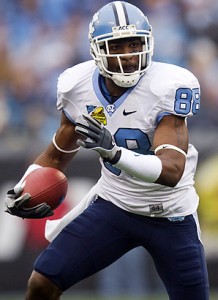 This is an ideal situation for the New York Giants, as the team is ready to win now, and needs a dangerous receiving threat.  I feel that the 6'1 214lb Nicks is more ready to contribute right away than any receiver in this draft.  He may not have as high of a ceiling as Darius Heyward-Bey, but his floor is also not as low and I think there is a relatively small chance Nicks is a bust. 
Nicks ran a 4.50 40 yard dash at the combine and probably has the best hands and runs some of the best routes in this draft.  He reminds me a lot of Anquan Boldin, because while he may not beat you deep, he will go up and get any ball and is great after the catch.  He is also a very willing downfield blocker and supposedly has great character.  As a senior Nicks caught 68 passes for 1222 yards and scored 12 touchdowns.  Anybody who saw Nicks catch eight passes for 217 yards and score three touchdowns in North Carolina's bowl game against West Virginia knows he can dominate a game. 
I am not going to delve into the Plaxico Burress situation, because we all have heard it a million times this off season, but if you watched the team play at all this season you know how badly Eli Manning needs another target.  Pairing Nicks with a impressive young reciving core including Steve Smith, Domenik Hixon, Mario Manningham, Kevin Boss and Sinorice Moss will really help the Giants until Plaxico Burress is able to retun to the field and should make the run first Giants much more dangerous through the air in 2009. 
The draft results so far are shown below. Click on the individual pick to read each blogger's rationale for his selection.
1. Detroit Lions: Mathew Stafford, QB (Georgia)
2. St. Louis Rams: Eugene Monroe, OT (Virginia)
3. Kansas City Chiefs: Aaron Curry, LB (Wake Forest)
4. Seattle Seahawks: Michael Crabtree, WR (Texas Tech)
5. Cleveland Browns: Rey Maualuga, LB (Southern California)
6. Cincinnati Bengals: Jason Smith, OT (Baylor)
7. Oakland Raiders: Jeremy Maclin, WR (Missouri)
8. Jacksonville Jaguars: B.J. Raji, DT (Boston College)
9. Green Bay Packers, Brian Orakpo, DE (Texas)
10. San Francisco 49ers, Everette Brown, OLB (Florida State)
11. Buffalo Bills, Clay Matthews, OLB (Southern California)
12. Denver Broncos, Malcolm Jenkins, CB (Ohio State)
13. Washington Redskins, Andre Smith, OT (Alabama)
14. New Orleans Saints, Brian Cushing, OLB (Southern California)
15. Houston Texans, Michael Oher, OT (Ole Miss)
16. San Diego Chargers, Eben Britton, OT (Arizona)
17. New York Jets, Tyson Jackson, DE (LSU)
18. Chicago Bears, Darrius Heyward-Bey, WR (Maryland)
19. Tampa Bay Buccaneers, Percy Harvin, WR  (Florida)
20. Detroit Lions, Aaron Maybin, DE (Penn State)
21. Philadelphia Eagles, Vontae Davis, CB (Illinois)
22. Minnesota Vikings, Mark Sanchez, QB (Southern California)
23. New England Patriots, Knowshon Moreno, RB (Georgia)
24. Atlanta Falcons, Clint Sintim, LB (Virginia)
25. Miami Dolphins, Larry English, LB (Northern Illinois)
26. Baltimore Ravens, Kenny Britt, WR (Rutgers)
27. Indianapolis Colts, Peria Jerry, DT (Mississippi State)
28. Philadelphia Eagles, Alex Mack, C (California)
29. New York Giants, Hakeem Nicks, WR (North Carolina)
The Tennessee Titans are on the clock.
(If you enjoyed this article, please consider leaving a comment below. Also, please subscribe to our blog by pressing the orange button below. Thanks.)

Subscribe in a reader