Steelers Today has hooked up with 31 other NFL bloggers from around the country to do a bloggers' mock draft. All 32 NFL teams are represented in the mock draft.
The mock draft is sponsored by Cleveland Browns blog No Logo Needed. For more details on the bloggers' mock draft, click here.
With the 31st pick of the 2009 NFL Draft the Arizona Cardinals select……
Chris Wells, Running Back, Ohio State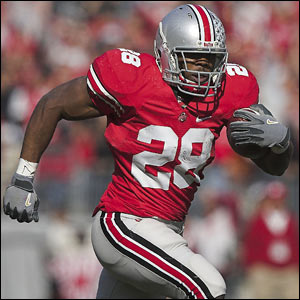 The Cardinals might be the only team in the league that counts running back as one of their top Draft Day priorities, but that could work out well for them as there should be some excellent options on the board here.  Knowshon Moreno is long gone, but the Cardinals are happy to see Beanie Wells slip to them at the 31st pick.  This is very possible in the real draft as well.   Running backs do tend to slide a bit and unless a team goes against the grain and takes one even though it's not a glaring need, a la Pittsburgh with Rashard Mendenhall last year, Wells could still be available late in round one.
The Cardinals could also use an upgrade at center and after the way James Harrison abused Mike Gandy in the Super Bowl they have to at least consider bringing in a new left tackle as well. Keep an eye on outside linebacker here too because even though the Cards have some solid options like Travis LaBoy and Chike Okeafor they really don't  have that impact pass rusher at  the position.
The draft results so far are shown below. Click on the individual pick to read each blogger's rationale for his selection.
1. Detroit Lions: Mathew Stafford, QB (Georgia)
2. St. Louis Rams: Eugene Monroe, OT (Virginia)
3. Kansas City Chiefs: Aaron Curry, LB (Wake Forest)
4. Seattle Seahawks: Michael Crabtree, WR (Texas Tech)
5. Cleveland Browns: Rey Maualuga, LB (Southern California)
6. Cincinnati Bengals: Jason Smith, OT (Baylor)
7. Oakland Raiders: Jeremy Maclin, WR (Missouri)
8. Jacksonville Jaguars: B.J. Raji, DT (Boston College)
9. Green Bay Packers, Brian Orakpo, DE (Texas)
10. San Francisco 49ers, Everette Brown, OLB (Florida State)
11. Buffalo Bills, Clay Matthews, OLB (Southern California)
12. Denver Broncos, Malcolm Jenkins, CB (Ohio State)
13. Washington Redskins, Andre Smith, OT (Alabama)
14. New Orleans Saints, Brian Cushing, OLB (Southern California)
15. Houston Texans, Michael Oher, OT (Ole Miss)
16. San Diego Chargers, Eben Britton, OT (Arizona)
17. New York Jets, Tyson Jackson, DE (LSU)
18. Chicago Bears, Darrius Heyward-Bey, WR (Maryland)
19. Tampa Bay Buccaneers, Percy Harvin, WR  (Florida)
20. Detroit Lions, Aaron Maybin, DE (Penn State)
21. Philadelphia Eagles, Vontae Davis, CB (Illinois)
22. Minnesota Vikings, Mark Sanchez, QB (Southern California)
23. New England Patriots, Knowshon Moreno, RB (Georgia)
24. Atlanta Falcons, Clint Sintim, LB (Virginia)
25. Miami Dolphins, Larry English, LB (Northern Illinois)
26. Baltimore Ravens, Kenny Britt, WR (Rutgers)
27. Indianapolis Colts, Peria Jerry, DT (Mississippi State)
28. Philadelphia Eagles, Alex Mack, C (California)
29. New York Giants, Hakeem Nicks, WR (North Carolina)
30. Tennessee Titans, D. J. Moore, CB (Vanderbilt)
31. Arizona Cardinals, Chris Wells, RB (Ohio State)
The Pittsburgh Steelers are on the clock.
(If you enjoyed this article, please consider leaving a comment below. Also, please subscribe to our blog by pressing the orange button below. Thanks.)

Subscribe in a reader