Steelers Today has hooked up with 31 other NFL bloggers from around the country to do a bloggers' mock draft. All 32 NFL teams are represented in the mock draft.
The mock draft is sponsored by Cleveland Browns blog No Logo Needed. For more details on the bloggers' mock draft, click here.
With the 32nd pick of the 2009 NFL Draft the Pittsburgh Steelers select……
Fili Moala, Defensive Tackle, USC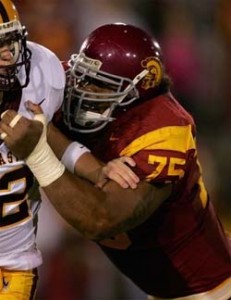 I had a hard time with this pick.  Everyone knows that the Steelers need offensive line help.  However, all of the offensive tackles that I was interested in are gone.  William Beatty was borderline, but I ultimately decided that he didn't deserve a first round selection.  The only interior lineman that I thought was worth a 1st round pick was Alex Mack, but he was taken by the Philadelphia Eagles (curse you!!!!).  I did think about Duke Robinson, but I just couldn't justify taking him here.
I looked hard at defensive backs.  I absolutely love Sean Smith, and he would have been my selection had I not taken Moala.  I got a lot of feedback from readers asking me to select Alphonso Smith, the CB out of Wake Forest.  I know that Smith has great ball skills, but I just don't think that a cornerback who stands slightly less than 5'9″ tall is what the Steelers need.  Dick LeBeau requires his cornerbacks to be strong in run support, and Alphonso Smith just can't do that.  Besides, how many starting cornerbacks are there in the NFL who are under 5'9″?  See my point?
Darius Butler out of Connecticut also got a lot of support.  But he has similar problems as Alphonso Smith.  Butler has great ball skills, but he only weighs 178 lbs.  He has a very thin frame, and he eschews contact.  The word "physical" is not in his vocabulary.  He might make a good Cleveland Brown, but he wouldn't make a good Pittsburgh Steeler.
The Steelers lost Bryant McFadden in free agency, so CB is a need.  However, backup William Gay is ready to start, so that need isn't as pressing as it may seem.  We definitely need depth at both CB and safety, but we can take care of that later in the draft.
I was ecstatic when the Arizona Cardinals took Beanie Wells with the 31st pick.  Now I won't have to explain not taking him to Steelers fans who are dying for a "power back".  Besides, we took Rashard Mendenhall last year.  2008 was essentially a redshirt year for him.
Ultimately, I couldn't overlook the fact that all of the Steelers' defensive line starters are over 30 years old.  Aaron Smith will be 33 this season.  His days are winding down, and Dick LeBeau's system is complex.  Few players start on the Steelers' defense in their first year.  We need to bring in Smith's replacement now to give him a year to learn, and prepare him to take over in 2010.
Fili Moala is a 6'4″, 303 lbs. defensive tackle who has started 38 games in one of the best programs in the country (USC).  I have Moala rated as the 3rd best defensive tackle in the draft.  However, I have him rated right below Tyson Jackson as the 2nd best 3-4 defensive end in the draft. 
Here is part of Moala's scouting report from NFL.com:
"A more valuable contributor than his yearly average production (26 tackles, 7.5 tackles for loss and 3.0 sacks) would indicate, Moala isn't going to fill the stat sheet, but his presence inside forced opponents to double-team him often, opening up opportunities for his playmaking teammates."
USC has 3 linebackers who may be drafted in the first round; Rey Maualuga, Brian Cushing, and Clay Matthews.  Those are the "playmaking teammates" that the scouting report is talking about.  Without Moala, those guys are not first rounders.
Moala's knock as a defensive tackle is that he is more of a run stopper than a pass rusher.  He just doesn't get enough sacks.  However, he is lauded for his rare size, strength, and his ability to collapse the pocket and make tackles despite fighting off double teams.  Hmmmm, a 300 lb. run stopper who can handle double teams, collapse the pocket, and open up lanes for his playmaking linebackers.  Sounds like a 3-4 defensive end to me.  Aaron Smith's successor has been found
By the way, I haven't heard Moala's name being tossed around on any Steelers messageboard, or seen it on any mock draft.  So I know that I'm on an island here.  But when you look at what he does, he's perfect for conversion to a 3-4 DE. 
But I know that Steelers fans are a vocal bunch.  So let me know what you think.  Just keep it civil.  My readers know that I don't tolerate name calling.  If you disagree, tell me why you disagree, and explain who you would have taken.  Don't just write in to call me a "moron", or to tell me that I'm "stupid".  If you do that, I'm just going to delete your comment.  We only allow intelligent conversation around here.
The draft results so far are shown below. Click on the individual pick to read each blogger's rationale for his selection.
The Detroit Lions are on the clock.
(If you enjoyed this article, please consider leaving a comment below. Also, please subscribe to our blog by pressing the orange button below. Thanks.)

Subscribe in a reader